Your coaching business deserves to be seen, and it needs great marketing to make that happen. Great marketing not only attracts the RIGHT people but also sets you apart from others, allowing your business to grow.
Whether you're an absolute beginner or have been running your own business forever, the ever-changing world of marketing can be overwhelming.
That's why I've made this guide just for solopreneurs like you—online coaches who need a nudge in the right direction to connect with more people and turn them into loyal clients.
Stick around, and I'll give you my honest, no-bs advice on the best marketing strategies for 2023 and how to use them like a pro.
What's Marketing for Coaches All About?
To make your coaching business thrive, you need to build and nurture an audience of people who love you.
Without a solid audience or a way to grow one, it's tough to expand your business and bring in new clients. But don't worry, there are lots of great marketing tactics out there and you just have to pick the right one for you.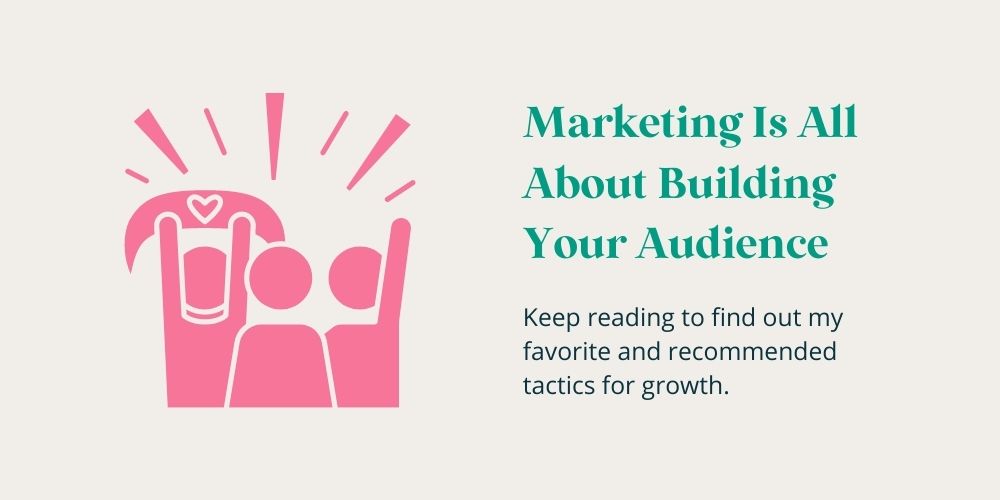 In this article, we'll dive into some of my favorite strategies to build your audience, which can be broken down into inbound and outbound.
Inbound marketing is all about creating content that speaks to your audience's wants and needs (bringing people "in" with blog posts etc.).
Outbound marketing, on the other hand, means sharing content with your audience through ads, cold calls, and direct messages (sending your message "out" with paid advertising, or direct outreach).
Both of these marketing styles play an important role in growing your business and keeping your pipeline full of clients. But some are better than others depending on where you are in your entrepreneurial journey.
Inbound Marketing AKA What Most Coaches Call "Organic Marketing"
Inbound marketing is all about drawing your customers to your business with great content and your own personal stories. Instead of casting a wide net like traditional outbound marketing, inbound marketing hones in on your specific customers' needs.
Inbound marketing builds your authority by delivering value and addressing your audience's needs and wants ie. sharing information that shows you know what you're talking about using platforms like Instagram, Youtube, or Facebook.
This approach attracts clients naturally and builds trust over time, leading to a longer long-lasting loyalty.
But beware: It takes time, effort, and resources to create great content, which means it could take longer than paid advertising or direct outreach to see results.
Inbound Marketing Pros
Easy on the wallet
Long-lasting results
Builds trust
Establishes authority
Brings your potential customers to you
Inbound Marketing Cons
Takes up your precious time
Results can be slow
Only top-notch content will do
Competition can be higher
Time investment upfront to learn how
We'll delve into inbound marketing strategies in more detail later, but here's a sneak peek of common methods:
SEO and Blogging
Email Opt-Ins
Social Media Marketing
Now, let's move on to outbound marketing—the yin to inbound's yang.
Outbound Marketing – Most Of Which Is Paid Marketing
Outbound marketing is all about reaching as many people in the quickest timeframe possible.
As a classic marketing tactic, outbound aims for a large audience through channels like paid social media, search ads, and good ol' direct outreach.
Outbound marketing lets you actively seek out new potential clients and showcase your products or services to the masses. This approach can deliver fast results and pump up your brand awareness but can also be pricey (in the case of paid advertising).
For fast results, outbound marketing provides a pay-to-play option that trades dollars for the time.
Outbound Marketing Perks
Quicker results
Massive visibility
Instant feedback on your message
Outbound Marketing Downsides
Costs money
Results vanish when you stop the ads
Not on your own platform
Need constant tweaking
Time investment upfront to learn how
When it comes to the battle of inbound vs. outbound marketing, the best marketing strategies will use a combination of both.
But depending on where you are right now that might not be possible for you. If you don't have a team or the resources to do both then you definitely shouldn't try to do it all alone.
Keep on reading to learn more about inbound vs. outbound and how to incorporate these strategies into your business.
The Best Inbound Marketing Strategies for Your Coaching Business
When picking an inbound strategy for your business it's important to think about two things; you and your audience.
You: Your strengths and personality type are important because this is something you're going to have to do consistently for the length of your business so pick something you're good at AND you enjoy doing.
If you're a word wizard, try your hand at blogging or longer LinkedIn posts. But if you love to speak, podcasts or YouTube might be a better fit for you.
Your audience: Where are your people hanging out? Would you find them on Facebook or are they more of a LinkedIn crowd?
The final secret to marketing your business with inbound strategies is CONSISTENCY. 
Once you pick a channel, own it. Bouncing between channels, platforms, and strategies will only leave you feeling overwhelmed and exhausted.
Trust me, I know! I tried being on EVERY platform in the beginning and all that happened was I got burnt out and ended up doing nothing on any of them for months.
In this guide, I've handpicked the best ways to market your business and divided them into content marketing, social media marketing, email marketing, and advertising.
Content Marketing for Coaches
Content marketing is all about creating valuable content for your specific audience.
The ultimate goal? Build credibility so you can build your authority and gain the trust of your potential clients who are then much more likely to buy from you.
Content can take many forms, but we'll focus on blog posts, videos, and podcasts.
Blog Posts
Blogging is a great way to connect with your audience, show off your expertise, and turn visitors into clients who stick around.
To do this well you need to write about what your audience is actually interested in. This means, you guessed it, you have to know what kinds of questions they're asking.
Get to know their problems and needs before you start typing, and make sure your writing covers topics that matter to them.
Do your homework on your audience's pain points and what they want to learn. This helps you create content that's genuinely helpful. When your content solves their problems, you become their go-to resource.
Also, dig into the keywords your audience uses on search engines like Google. This will guide you on what topics to write about.
For example, if you're a fitness guru, you might find keywords like "how to shed the last 10 pounds," "how to kick off exercising," and "best workout for lower back pain." These keywords cover different problems, but they're all related to fitness.
By discovering the keywords that mirror how your audience searches for info online, you can win free traffic from search engines like Google.
Podcasting
Podcasting is a fun and trendy way to reach your target audience. Instead of writing, you record audio episodes about topics that get your listeners excited.
Churning out new episodes regularly and letting listeners access your collection on demand increases the demand for your podcast.
If you're more into talking than writing and can commit to recording frequently, podcasting could be your perfect match. Just like with blogging, make sure to pick topics your audience cares about so you can turn listeners into buyers.
Choose the right focus for your podcast. For example, if you're a financial coach, don't create episodes about parenting or exercise. That won't help your audience.
Once you know your niche and the topics they'll love, you can hit the record button.
Video Marketing
Video marketing is a bit more involved than blogging and podcasting, but it's becoming more and more crucial for building trust with your audience in an age where we're quite disconnected from each other. Video allows people to see your face and connect with you in a way that reading an article just doesn't.
You can create short videos for Instagram and TikTok or longer ones for YouTube. Just make sure your content, message, and call-to-action are relevant.
A huge bonus of video marketing is that loads of people prefer watching videos over reading or listening.
As with podcasting and blogging, figure out what your audience wants to learn and make videos about those topics. And don't forget to include a clear call-to-action in every video so they know how they can keep working with you if what you said resonates with them.
Social Media Marketing for Coaches
Social media marketing is a no-brainer and powerful way to connect with your potential clients and buyers. Whether you're into videos, photos, or longer written posts, there's a platform that will work for you.
To start off your social media marketing journey, I recommend picking just one or two platforms. Posting on too many can be a time-suck and spreading yourself too thin means you'll be less effective overall.
Here's a quick overview of some popular platforms to help you decide where to start.
Facebook
Facebook is extremely versatile—you can post text, pictures, or videos. With over 2.9 billion active users per month (source), there's a solid chance your target audience hangs out here.
Facebook has a much more even distribution of users when it comes to age range than Instagram does (source), so if you're targeting a slightly older person Facebook might be a better bet for you.
Either way, Facebook is a solid starting point if you're just getting into social media marketing.
YouTube
Boasting just over 2.5 billion users a month, YouTube snags the title of the second-most popular social media platform (source). Unlike Facebook, you can use keywords to help folks find your videos.
The major downside to YouTube is the format: you can only post videos. So if you're a bit introverted or scared of getting on camera it might not be a good choice for you. It also can take a fair amount of time to start seeing results on Youtube so you'll have to be patient and consistent with your video creation. But if you're game for creating and sharing videos, YouTube can help you tap into a fresh audience.
LinkedIn
LinkedIn may have fewer monthly users than other social media platforms (310 million per month, source), but it can be an insanely powerful platform if you help other businesses (B2B market).
LinkedIn is like Facebook in that you can post text, photo, or video posts. However, LinkedIn also lets you include keywords in your posts that can widen your reach.
Remember that the type of content that shines on LinkedIn is worlds apart from what works on Facebook. Usually, long-form, business-oriented, informational posts outperform short posts that are a hit on Facebook.
Instagram
Instagram holds its own as the third most popular social media channel, with roughly 2 billion users each month (source).
If you prefer creating beautiful visuals or short-form video content, Instagram might be a better fit than Facebook for your platform of choice. Images and reels are Instagram's lifeblood, along with hashtags that can boost your organic visibility.
The average age of a typical Instagram user falls within the 18-34 year range (source) and declines significantly among older age groups. In contrast, Facebook users are more evenly distributed across different age ranges (source).
If your coaching business is very visually led or you enjoy putting out a lot of short-form videos, Instagram is going to be the best choice for you.
Twitter
With Twitter's recent ownership shake-up, its monthly user base hovers around 238 million.
But that doesn't mean Twitter is a dud for your business. If you have an existing account with a bunch of followers or you like writing short, snappy snippets, Twitter might still be your top social media choice.
Keep in mind that you'll need to post multiple times a day to make headway with Twitter.
TikTok
Now boasting over 1 billion monthly users, TikTok isn't just for teen antics. In fact, TikTok could be a great way to promote your business if you're up for cranking out super short videos 10-20 times a week.
What sets TikTok apart as a potential goldmine for your business is the massive number of users, the ability to add relevant hashtags, and the insanely quick insights on video performance.
One drawback of TikTok, however, is its uncertain future in the United States. As of writing this article, it's unclear whether TikTok will stay a viable option for US-based coaches.
Pinterest
Pinterest is a small yet mighty platform that's worth considering for its amazing potential, especially if you're committed to blogging regularly.
I've added it under social media marketing but it's actually an SEO-based platform just like YouTube and works completely differently from algorithm-based platforms like Facebook and Instagram. So keep that in mind when deciding whether it's the best choice for you.
With 445 million active users every month, more than 76% of whom are women (source), Pinterest could be a dream if your target clients are women.
If you can curate content in your boards that's interesting to your audience, optimize your blog posts for Pinterest consumption, and target the right keywords, it's possible to build and make money from Pinterest.
No matter the platform you choose, once you've got your profile set up, consistency is key. Learn what works best on your platform and keep doing it!
Coaching and Email Marketing
Email marketing is just sending emails to people who might be interested in what you're offering. It's about promoting your coaching, sharing cool stuff, and just making friends. If you're smart about it, email marketing won't break the bank and can really help your coaching business grow.
Sending regular emails helps you build relationships with your followers. If people like you and trust you, they'll pick YOU when they need coaching.
Emails also keep you in touch with your audience, help you figure out what they need, and build relationships that lead to more business and recommendations.
To get started with email marketing, you need a list of people to email. Give them something awesome for free in exchange for their email address, or ask them to sign up on your website and social media.
Once you've got a list, email them often so they remember you. Keep an eye on how well your emails do, and tweak them to make them better. That way, your subscribers are more likely to become clients.
Paid Marketing Strategies for Coaches
Outbound marketing means reaching out to people, even if they didn't ask for it. You can pay for ads on Google and Facebook or just send cold emails and messages to get their attention.
Read on to learn the best outbound strategies that work for coaches.
Google Ads: Worth It?
Google lets you pay to appear in search results when people look for specific things.
The problem? It's fairly involved to figure out how they work, you can only target people who are already searching for a solution which decreases your pool of potential clients and you lose your visibility once you stop paying.
Facebook Ads: Get Visual
Facebook (and Instagram) ads focus on what your audience likes and who they are. It's a different game from Google, but it can help you find people you wouldn't reach otherwise.
They're fairly easy to get started with, require only a small budget (as little as $5 per day) and you can advertise in loads of different formats (video, text, images).
Just remember: you'll need good visuals (pictures or videos) to make your ads stand out.
Other Ads: Play the Field
LinkedIn, Twitter, or other platforms could work for you too. It depends on where your audience hangs out. Just make sure your ads are on point for the platform and the people you're targeting.
Cold Emails and Messages: Too Spammy?
Cold emailing is finding potential clients' email addresses and shooting them an email to see if they're interested.
Direct messaging is doing the same thing on social media platforms like Facebook or LinkedIn.
While some marketers might look down on this approach, studies show it can be more effective than other methods. The key is to make each message personal and relevant to the person you're contacting.
There's nothing worse than receiving an email or message from someone who clearly has never looked at your profile before. So make sure you're doing some research on the people you're messaging before you reach out.
Check out this Harvard Business Review article for tips on writing effective cold emails.
Avoiding Marketing Blunders in Your Coaching Business
Marketing your coaching business can feel tough when you're just starting out. I know I really struggled with it when I first started out.
But if you steer clear of some common missteps that many coaches make, you'll be miles ahead of the pack.
Keep reading for my take on the top four marketing mistakes coaches often make.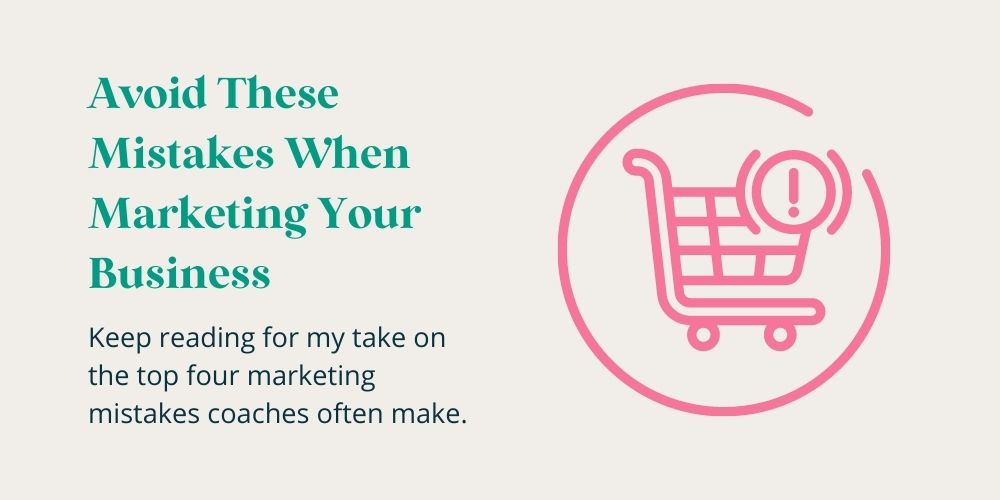 Trying To Do It All
A big problem I see coaches face when they start marketing is trying to do it all. It's super tempting to hear about someone else's success with a certain platform or strategy and then switch gears to try the same thing. This approach is a recipe for disaster. Trust me, I know. I did this for the first year of running my business (still do sometimes) but you need to stick with something for at least 6 months before you can really tell if it's working or not.
So pick a strategy and stick with it for a good while before you decide to try something else.
Spreading Your Efforts Across Too Many Platforms
It's better to have one or two strong sources of traffic (Instagram, Facebook, or your website for example) than a BUNCH of weak ones. When you're just starting out it can really backfire to try and be everywhere because you don't yet have a team to help you and it can quickly lead to burnout or massive inconsistency in showing up.
Instead, pick one channel and stick with it until you see results. Once you hit 5k months or more you can hire a VA and spread out to other channels.
Keep Going
Consistency rules. If you don't stick to the marketing plan you made for yourself, you'll end up going in circles or changing course too often to make any real progress.
Once you've figured out the best way to market your coaching business, stay the course! You probably won't see results right away. In fact, depending on your marketing methods, it could take 5 months or more to see real results. That doesn't mean you're messing up; it just means you need to keep at it.
Not Zeroing In on Your Audience
A massive marketing mistake coaches make is not creating a clear picture of who they want to work with. This has a knock-on effect on everything you do in your business because if you dont know who you're talking to your offers, content and brand are all going to speaking to the wrong person and you can waste months creating things that aren't going to sell (of course, sometimes this can just be a rite of passage in the business world as you often don't know who you want to work with until you start getting clients and who you get the best results for).
To make sure your marketing efforts pay off, you've got to identify your perfect-fit clients, figure out their problems, and line up your solutions accordingly. This isn't a walk in the park and will need some work on your part. But, when done well, knowing your audience inside and out can lead to amazing marketing results.
What's Next?
Getting the hang of all the ways you can spread the word about your business is just the start of marketing your coaching business effectively. But it's such an important one!
My best advice is to pick something that suits your personality and the type of business you want to create and then stick with it.
Now that you know how you're going to market your business check out the top 10 marketing tools I recommend to save time and energy doing it.