A lot of the women that I work with actually really struggle to come up with an idea for a lead magnet for their business so I thought I would share my top tips on how to create a lead magnet specifically for your business.
So firstly, what is a lead magnet?
A lead magnet (also called a freebie or an opt-in bribe) is something that you give to people for free in exchange for their email addresses. You're giving them the incentive to join your email list.
Many years ago, all you had to do was add a form to the bottom of your website and ask people if they wanted to receive emails from you and people would opt-in.
Unfortunately, that doesn't work anymore.
So we had to get a little more creative and some brilliant person came up with the idea of giving something away for free in exchange for an email address and the lead magnet was born!
The next question you might be asking is: do you even need to build your email list in this day and age with social media followings and all these other ways to communicate with customers?
I wrote a great article about this right here that you should go and check out where I answer this exact question.
Now that you have an idea of what a lead magnet is, let's dive into how to create a lead magnet for your coaching business.
1. Tip 1 on how to Create a Lead Magnet for your coaching business -> Know who you are talking to
This is the most important step in my opinion and the one that most people skip over.
If you do a quick google search for "ideal client workbook" there are loads of examples of questions that you should answer about the people you want to (or already do) work with.
I wouldn't bother too much with demographics ie. how old they are, where they live etc.
The most important question is "What is their biggest struggle in relation to your particular area of expertise".
In other words, if you're a relationship coach and you help divorced women find love again, what is their biggest struggle when it comes to finding love again after divorce?
I recommend getting on a zoom call with at least five of your ideal clients and asking them this question.
If you already have clients then you can definitely ask some of your past and current clients to help you out.
If you're just starting out and you don't have any clients to talk to then I encourage you to find out where your people hang out online and see if you can set up some market research calls with a few of them.
I recommend offering them something in return for their time, a $10 gift card or a free session with you possibly.
Who knows, you might get your first clients from these calls!
2. Solve a problem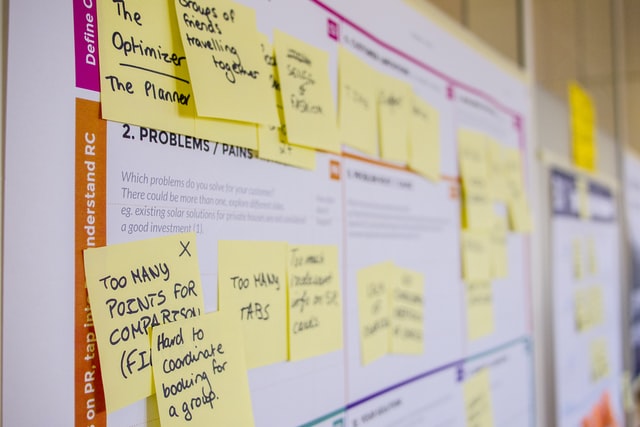 It's really important that your lead magnet solves a small problem of your ideal client.
So let's take the relationship coach we mentioned above as an example. Say she speaks to five of her ideal clients and they all say that creating an online dating profile is really scary and confusing when you're over 40 and they find this one of the worst parts of starting to date again after a divorce.
This would be a great topic to create a lead magnet about.
It solves a real problem for her ideal client.
It's not an overwhelming topic to help someone with and it's directly related to what she does and helps women with.
One of the biggest mistakes I see when going through my client's lead magnets when we start working together is they haven't thoroughly understood the pain points of their ideal clients.
This leads back to step 1 (know who you're talking to), and why I said it's the most important step. Because without really knowing what your ideal client is struggling with it's impossible to solve their problems.
Another tip I can give you around this is don't hold anything back.
You can't give away too much information. People aren't paying you for information, they're paying you for support, accountability, and expertise. So don't worry that you're giving them your secret method and then they won't need to work with you.
It's BECAUSE of that amazing method that they'll WANT to work with you!
3. Give a quick win
My last tip on how to create a lead magnet for your coaching business is to not try and solve all their problems in one go.
When people start looking for a solution to their problem they're normally just at the beginning stages of learning about a topic so they're easily overwhelmed.
It's better to help them solve a small specific problem very quickly than to bombard them with so much information that they become confused.
You want your lead magnet to be instantly accessible and something they can implement in one sitting. It should preferably not to make more than a few hours to implement and see results.
Once you have given them a quick win by solving a small real problem of theirs they will naturally be more inclined to work with you on a higher level.
I hope that gives you a better idea on how to create a lead magnet for your coaching business.
The lead magnet itself is only one small part of the bigger picture which is the lead generation funnel. This includes the pages where you get people to opt in for the lead magnet and the follow-up emails that you send to them once they have opted in.
If you are setting up your own lead magnet funnel and you just don't know what to put in the follow-up emails then grab my email sequence swipe file and structure guide where I've given you the exact copy I've used for one of my own welcome sequences and I've outlined what to put in each email for your own business so you can start getting clients with your first lead magnet.